The computer program measures multiple aspects of cognitive functioning, including
attention span, working memory, sustained and selective attention time, response variability, and several facets of verbal/visual memory
.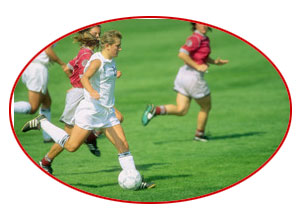 The program also consists of a self-report symptom questionnaire (20 symptoms typically associated with concussion) and a concussion history form that precedes the neuropsychological measures. The entire program is a
user friendly
, web-based program that can be administered by a parent, team coach or athletic trainer with minimal training. Reaction time is reliably measured to one-thousandth of a second across individual test modules (ten modules total) and allows for an assessment of processing speed as the player fatigues. The test battery consists of a multitude of alternate and equivalent forms by randomly varying the stimulus array within each module. This directly addresses the issue of practice effects that have limited the utility of traditional neuropsychological tests. Overall time of baseline administration is approximately
25 minutes
. Data is then stored securely on the ImPACT
©
server and is available to the trained clinicians who conduct post-injury evaluations.