Testing - BASELINE TEST
WHO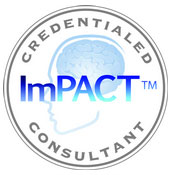 All at-risk athletes, ages 12 years and older, are strongly encouraged to obtain baseline cognitive evaluations. In fact, all athletes and staff should consider the high benefit low cost of obtaining baseline measures.
WHAT

While not diagnostic on its own baseline testing is critical in identifying and managing a concussion once an injury has happened. Although this test can be challenging it is important to remember to do your best. Test results may be reviewed for accuracy and utilization information but will remain confidential and secure. Prior to injury, completing this evaluation does not constitute a real or implied treatment relationship.
WHEN

Baseline testing should ideally occur at the beginning of the appropriate sport season prior to contact drills. Remember, concussions can happen during practice, too.

HOW

HAVE YOUR TEAM, SCHOOL OR ORGANIZATION CONTACT DR. CZARNOTA TO SCHEDULE INDIVIDUAL OR GROUP TESTING SESSIONS - PRE-TEST INFORMATION and INSTRUCTION MEETINGS WILL BE PROVIDED
Baseline testing is completed under the supervision of a trained parent representative, coach or clinician in a quiet setting away from home and free from interruptions. Instructions are provided for each module and the tasks are thoroughly explained, some of which also include practice trials to insure correct understanding. Total time is approximately 25 minutes.
There is a nominal fee associated with testing (US$20). Each arrangement provides for the test itself as well as secure storage. Results will be stored in a central location, which means that the data can be available to an appropriate clinician for post-injury comparison even if you move or are injured during an out-to-town tournament. Adults may be required to enter valid credit card information before baseline examination can begin.
While testing is best done under clinical supervision, a responsible adult can also be instructed to proctor the assessment properly. In either case, the process should be monitored closely to insure the athlete's best effort within a proper testing environment, i.e., quiet and without interruptions. Computer requirements are minimal: Internet connection, use of A/C power and an external mouse; closing other programs is also recommended.

HOW OFTEN

There is ongoing research to address this issue but the general consensus is that it should be done on an annual basis to accommodate the developmental changes associated with a maturing child. Different timetables may be appropriate for college or professional athletes and adult staff.
When asked what advice he'd give today's hockey parents on the matter of concussions:
I think the No. 1 thing, whether it's mandated or not by your hockey association or team, probably starting at about the age of 12, I would get my son or daughter a baseline test and that way you have a starting point if this ever happens ..... It's time to get preventative.
- Craig Heisinger, father and GM of AHL St. John's IceCaps