Overview - ATHLETES AT RISK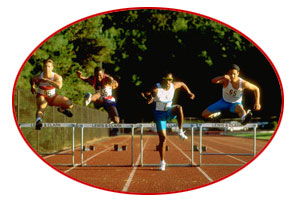 Concussions can occur in any sport or activity; and are often the unintended consequence of the game, with the exception of boxing. Concussions are most often seen in collision sports, where full contact collisions are an expected part of the game, such as football, ice hockey and rugby.

Concussions also occur during participation in sports where high-speed collisions may not be a central part of the activity but happen nonetheless, such as in soccer, wrestling, basketball, diving, and competitive cheerleading. Risks for injury are also present outside of traditional organized sports, such as mountain biking, snowboarding, skateboarding and BMX racing.

A list of at-risk sports is presented below and is not meant to be exhaustive. Keep in mind that parents and coaches in every sport, even swimming, should become aware of the signs and symptoms of concussion.


Boxing
Cheerleading
Diving
Equestrian
Football
Gymnastics
Ice Hockey
Lacrosse
Martial arts
Motor sports
Mountain biking
Rugby
Skiing
Snowboarding
Soccer
Wrestling